While our mixes are stand-alone good, we like to find new ways to use them. That said, we've come up with an easy way to use our Classic Pound Cake Mix to make a Cranberry Lemon Cake. I found some dried cranberries in the cupboard leftover from the Christmas holidays that needed to be used. A lemon was resting peacefully in the crisper drawer of the refrigerator as well. Not for long, "my little pretties!"
The Classic Pound Cake Mix is a versatile mix, so I thought my found ingredients, along with a few eggs, a little oil, and some water would make a nice combination. Don't you just love it when your hunches turn out spot on? I do! I took the eggs, water, and oil and mixed them together with the mix, then stirred in fresh squeezed lemon juice, the cranberries, and a few chopped pecans for added crunch. This combination baked up to be a tasty treat and so easy to make.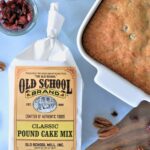 Print Recipe
Cranberry Lemon Cake
Easy recipe for a delicious cranberry lemon treat.
Servings: 10
Ingredients
1 package Old School Mill's Pound Cake Mix
3 Eggs slightly beaten
2 tbsp Water
1/3 cup Vegetable Oil
1 tbsp Lemon Juice
1/2 cup Dried Cranberries
1/2 tsp Lemon Zest
1/2 cup chopped pecans optional
Instructions
Preheat oven to 350°(F).

Grease and flour 8 x 8 pan.

To package contents add eggs, water, vegetable oil, and lemon juice. Stir until well blended.

Fold in dried cranberries, lemon zest, and pecans.

Pour mixture into prepared pan and bake for 28 to 32 minutes.