Red Velvet has traditionally been associated with the Christmas holidays, but I'm here to tell you, "Red Velvet isn't just for Christmas anymore!"  We've been in the kitchen experimenting (again) and have come up with a delicious Red Velvet Brownie recipe.  These brownies are a rich red color with good chocolate flavor. Oh, and we got a little frisky and added some white chocolate chips. OhMyGoodness!! These Red Velvet Brownies will not disappoint. Watch out Christmas, Red Velvet Brownies just may on the Easter table this Spring!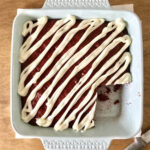 Print Recipe
Red Velvet Brownies
Make these decadent brownies with Old School Brand™ Red Velvet Cake Mix. Super easy recipe to whip up!
Servings: 9
Ingredients
1 pkg Old School Brand™ Red Velvet Cake Mix
3 Eggs
2 tbsp Water
1/3 cup Vegetable Oil
1 cup White Chocolate Chips
Instructions
Preheat oven to 350°F. Prepare 8×8 pan with non stick cooking spray.

Add Red Velvet Cake Mix, eggs, water, and vegetable oil to mixer. Mix until contents are blended.

Fold in chocolate chips. Add mix to prepared pan and bake 30-40 minutes.