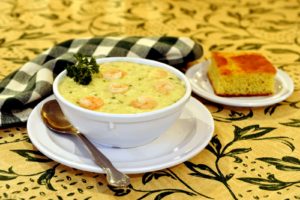 Some of you may know that we had a restaurant for 12 years and recently closed the doors to give more attention to our first love, Old School Mill, Inc.  Since January, we've been cleaning out the years of accumulated "stuff" at the restaurant.  So I'll cut to the chase here and say that I found (among many other things) Dave's original recipe for Shrimp'n'Grits.  His recipe was for a restaurant pot full of this creamy dish, but I have scaled it down to a more manageable batch.
We made our Shrimp'n'Grits at our first restaurant in the early 2000's every third Saturday.  The other two Saturdays we made Chicken 'n' Dumplins' and Jambalaya, respectively.  The grits entree was quite popular, so when we moved to the Locust location Shrimp 'n'Grits was added to the menu.  Toward the end of our restaurant days, we bravely added jalapenos and Pimento Cheese–Dave would have been proud!  Dave's recipe is different from the Low Country recipes that most restaurants serve (equally good). I share it with you here…
DAVE'S SHRIMP 'N' GRITS RECIPE
2 cups Old School Brand Grits
8 cups water
4 oz. chicken base
1 stick of real butter
8 oz. cream cheese, softened
1 cup dried chives (Dave always said to use plenty)
1 lb. precooked salad style shrimp
Bring water to boil in large saucepan. Stir in chicken base and grits. Reduce heat and cook about 35 minutes, stirring occasionally. Remove from heat. Add butter, cream cheese, and chives; stir until these ingredients are well incorporated into the grits. Rinse shrimp and gently fold into grits mixture. Yield: 4-6 servings
Quality, purity, goodness…eat and enjoy!
Robin Hinson
Old School Mill, Inc.