Our Buttermilk Biscuit Mix alone is sure to please. Add cheddar cheese and you won't be able to stay away from these warm buttery biscuits. We like to pair our biscuits with our Country Ham to make the perfect savory dish for breakfast, lunch, or dinner!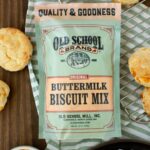 Print Recipe
Cheddar Biscuits
Ingredients
1 bag Old School Brand™ Buttermilk Biscuit Mix
1/2 cup butter or shortening
3/4 cup buttermilk or milk
6 ounces shredded mild cheddar cheese
Instructions
Blend butter or shortening into mix with pastry blender or fork until mixture reaches crumb consistency.

Blend in milk to make a dough. Knead lightly, to mix only.

Add cheese to mix and work in with fingertips.

On floured surface, roll out dough 1/2 inch thick and cut into 2 1/2 inch discs.

Bake biscuits on greased pan at 400°F for 10-12 minutes. Yield: 12-13 biscuits.