When I was growing up in southern Virginia, in the 1960's-1970's, we had fresh made cornbread at least twice a week. Dad enjoyed his cornbread broken in pieces in a glass with cold milk. The rest of us ate it hot, with butter. Honestly, we paid it little attention; you might say we took it for granted. Mom made our cornbread with buttermilk, and maybe because it is what I grew up on, but I prefer making it with buttermilk as well. The pungent buttermilk blends well with the meal, eggs, and oil for a perfect cornbread flavor.
Fast forward to adulthood and I found myself owning a restaurant and making cornbread for consumption by the public. It would be a story for another time just how I found myself in this particular employ, which is not the point here. My intent here is to communicate just how versatile and forgiving cornbread can be. This simple batter bread can become a flavorful and exciting new dish in a matter of minutes.
What kinds of foods lend themselves to be added to cornbread batter? When I was at the restaurant, I would study the leftovers shelf in the walk-in cooler to find bits of yesterday's offerings crying out to be used. I have used leftover cooked apples, raw bits of apple, cinnamon, and mashed sweet potatoes at one time or another with great results. When I used these items, I cut back slightly on the "wet ingredients" ( a little less buttermilk, or one less egg).
For more traditional additions to cornbread, I have used corn, shredded cheddar, sauteed onion and bell pepper, and of course jalapenos. The younger generation seems always a step in front of us and true to form, my daughter-in-law found a wonderful recipe for Jalapeno Poppers. She shares it below.
My encouraging words are "Be brave with your cornbread" and do not hesitate to add unconventional items to your batter. I'm thinking of trying some cooked pumpkin to my next batch, with a dash of pumpkin pie spice and maybe a few pecans. It's a brave, new cornbread world!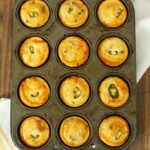 Print Recipe
Jalapeno Cornbread Poppers
Ingredients
1 bag Old School Brand™ Jalapeno Cornbread
2 1/4 cups buttermilk or milk
3 eggs
1/4 cup vegetable oil
1 teaspoon sugar optional
2 cups shredded cheddar cheese
3 ounces cream cheese cubed
Instructions
Preheat oven to 350° F.

In a medium bowl, combine jalapeno cornbread mix, milk, eggs, oil, and sugar. Stir to mix.

Add shredded cheese to batter and mix.

Pour batter into greased muffin tins.

Add bite sized cubes of cream cheese to each muffin tin and poke down into batter.

Bake muffins for approximately 22 minutes.