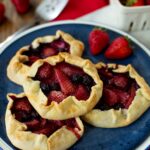 Print Recipe
Mini Strawberry and Blueberry Galettes
Servings: 8 servings
Ingredients
1 prepared Old School Brand™ Pie Crust Mix
1½ cups strawberries hulled and quartered
½ cup blueberries
3 tbsp sugar
1 tbsp cornstarch
Instructions
Preheat oven to 375°F.

In a medium bowl, mix together strawberries, blueberries, sugar, and cornstarch. Set aside.

On a floured surface, take your prepared Old School Brand™ Pie Crust and cut into 8 equal pieces.

Roll each individual piece of dough out to a rough circle about 5 – 6 inches in diameter.

Place the rolled dough onto parchment paper lined baking sheets.

Place about 1/4 cup of berry mixture into the center of each dough circle.

Fold the edges of the dough up until they just reach the berry mixture.

Brush the pie crust mix with egg wash.

Bake for 35-40 minutes or until the pastry is golden brown and filling is bubbly.

Let cool and serve with ice cream or whip cream.