Call it a cobbler, a buckle, a grunt, a sonker, or a variety of other names, but this fruit confection deserves our praise. There are many reasons to praise Cobblers.
Cobbler is easy to prepare. Fresh fruit in season is best—any kind of berries, or peaches, or apples—sweetened before adding to the crust will work, but in the bleak of Winter, canned fruit or pie filling will also do. I usually add about ½ cup of sugar to fresh berries or peaches and slightly more to apples if they are tart. If you work your fruit ahead, you can have a cobbler in the oven in minutes; there is no "rolling out" or shaping dough or "greasing and flouring" pans required, just a little butter in the bottom of the pan that you can melt while the oven is preheating, as you mix together the crust. Slap those ingredients together, pour over the melted butter, apply fruit, and get that cobbler in the oven in less than 10 minutes.
Cobbler is forgiving. This is not an exact dish. It does not matter if it bakes up beautifully or a little on the messy side, cobbler will still be eaten. Every bite. A little short on strawberries? Toss in a few blueberries or blackberries as well. It will bake up just as tasty. Bake it in a skillet, a baking pan, a pie pan, a casserole dish—the container does not matter. Cobbler will adapt.
Cobbler is not finicky; it does not require special skills. You can bake the cobbler without fear of it bubbling over in the oven (as a pie might) or "falling" when you remove from oven (as a pound cake might). There are no layers to assemble (as in a layer cake); there is no frosting to apply. Nope, once your cobbler is done, remove from oven and let it cool. Ready to eat.
Cobbler is exquisite warm, but also good at room temperature, or even cold the next day. It is great with ice cream; it is great without ice cream. It is good for breakfast. I would appreciate your not questioning my authoritative knowledge of facts this paragraph. I know these facts from experience.
Cobbler will feed a few or a crowd. A small square will make your guest just as happy as a large, honking slab. Feeding 6 or 12, you can stretch that cobbler as you serve—just be certain everyone gets a little fruit in their serving. Have I convinced you just how easy, how practical this dessert is to make? It is my "go to" dessert when I am pressed for time, or brain dead from stress, or low on groceries. It is a miracle dessert. Do I hear the Hallelujah Chorus playing somewhere? Someone must have taken a bite of a cobbler!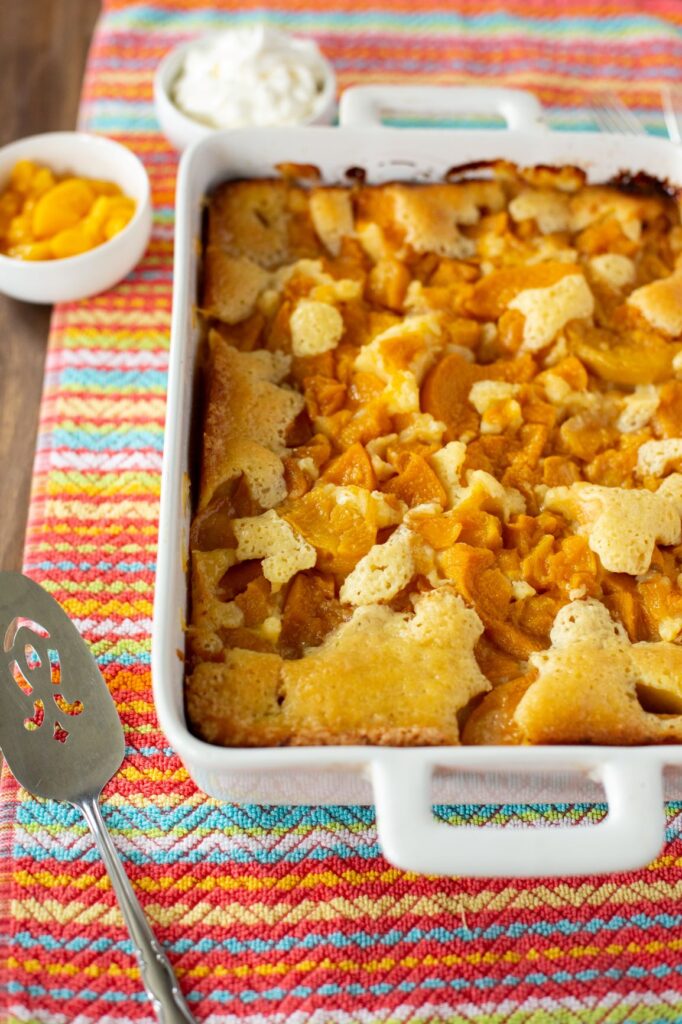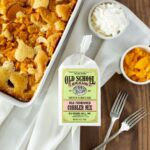 Print Recipe
Southern Peach Cobbler
Easy to bake cobbler. Perfect for fresh or canned fruit.
Ingredients
1 pkg Old School Brand Cobbler Mix
1/2 cup Butter unsalted
1 cup Milk
3 cups Fresh or canned fruit
Instructions
Place stick of butter into 9"x 13" baking pan. Then place baking pan into oven and preheat to 325 degrees F.

While oven is preheating. Combine cobbler mix and milk and blend until smooth.

For fresh peaches, wash, peel, and slice peaches. Enough for 3 cups of sliced fruit. Sweeten fresh fruit with about 1/2 cup of sugar.For canned peaches, drain sliced peaches. You will need two small cans of peaches.

Once butter is melted in baking pan, take out of oven. Swirl butter then pour in cobbler batter. Then spoon peaches into pan. Sprinkle sugar on top.

Bake cobbler for 45-50 minutes at 325 degrees F.